1,200 square foot party room in the heart of Addison, Texas. The perfect place in the Dallas metroplex for your birthday, graduation, reunion, bridal shower, rehearsal dinner, wedding, baby shower, professional networking, business meetings, anniversary, and more. We offer both family and buffet style, we customize your menus to fit your needs. Enjoy a very fun karaoke experience. Please call our management team at 972-392-9998 for details.
Link:
May Dragon Banquet Menu
Link:
May Dragon Catering Menu
Link:
Group Lunch/Dinner Menu
(order separately with one check)
Celebrate in style!
We're grateful to have enjoyed nearly a quarter century as the hospitality industry leader in planning and hosting private parties and corporate events. We're excited to be able to offer a vast array of venues that lend themselves perfectly to a variety of occasions.
We come to work every day determined to maintain and extend the trust we've earned over the years from tens of thousands of event planners and millions of attendees.
But with all that we host parties and care for your guests and little brings us more satisfaction than adding to the fun when you're enjoying each other's company and sharing in each other's joy and making every minute count with each other.
When you're planning your next event – a private party, a community celebration or remembrance, a corporate party, professional getaway – we'd love you to think of us.
In House Lunch buffet
​The pricing below is based on a 30-person minimum
Great for Holiday Parties
~ ~ ~
Receptions
~ ~ ~
Birthday Parties
~ ~ ~
Corporate Events

Choice of main courses: Lo Mein, Orange Chicken, Beef with Broccoli, Sesame Chicken, Sweet & Sour Chicken, Shrimp with Vegetable Delight, Pork Hunan Style, Sliced Chicken with Snow Pea, Shrimp with Lobster Sauce, Kung Pao Chicken, Ma po Tofu
Buffet Combo #1 $450.00 ($15.00 per Person)
Your choice of two main courses Served with steamed white or fried rice and spring rolls

Buffet Combo #2 $600.00 ($20.00 Per Person)
Your choice of three main courses Served with steamed white or fried rice and spring rolls

Buffet Combo #3 $780.00 ($26.00 Per Person)
Your choice of three main courses Served with steamed white or fried rice, spring rolls, dumpling and beef on the stick
​Beverages
Choice of Iced tea, Hot Tea or Soft Drinks
Dessert (additional $5 per person)
Choice of cake or Ice Cream

• Audio/Video, Apple TV presentation Sound System available for Rent ($250.00 for 3 hours)
• The above is a menu that works for most parties. If you have a special request, or a specific menu in mind, please let us put the exact package together you are looking for!
• We also serve cocktail drinks, liquor, sake, beer and wine.
White China, Silverware, Linen Napkins, White Linen Tablecloths
Set-up, Tear-Down and Clean-Up
Professional Bartender Service
Experienced Serving Staff
Four-Hour Room Rental
Cash Bar
All Price plus tax and 20% gratuity.
One check only for all buffets (no separate checks)
**We require a $100.00 deposit to hold any reservation. The deposit is non-refundable and will be applied to the balance of the check the day of the party.
Daily Happy Hour Drinks Available
4PM~6PM
Happy Hour Domestic Beer $2.00
Happy Hour Imported Beer $3.00
Happy Hour House Wine $3.00
Happy Hour Well Drink $4.00
Happy Hour Sake $5.00
---
Awards
May Dragon Chinese Restaurant is 2015 & 2016 Reader's Choice Awards "Favorite Chinese Restaurant" Recipient in North Dallas
"Four Star Chinese Restaurant in Dallas"--Dallas Morning News--
"May Dragon Chinese Restaurant is 2015 Reader's Choice Awards Favorite Chinese Restaurant Recipient in Dallas"
"2015 & 2016
Gourmet Taiwan-Overseas Quality Restaurant
"
"Upscale Chinese Restaurant"--The DBJ 2006 Consumer Choice Awards for Business Excellence--
"Best Chinese Restaurant"--Dallas Observer Best in Dallas 2007--
"Praised by a number of local publications, May Dragon stands as one of the area's highest-rated Chinese restaurants — and proud it should be. Superbly prepared and presented Mandarin, Hunan, Cantonese, and Szechuan dishes garner equal spotlight time, from lighter fare like vegetable lo mein and dan dan noodles to more substantial numbers like smoked tea duck, sesame chicken, and lobster Cantonese. An attractive setting is punctuated by painted screens, white linens, and soft background music; service is professional and accommodating.--10 Best Chinese Restaurant by 10 Best.com--
"General Tsao's Chicken" #1 Customer's Favorites" --Golden Grub Award 2012--
''Minority Business Leader Awards" --Dallas Business Journal--
"Generous Contribution and Participation in the 2007 Taste of Full Flavors"--Metrocrest Chamber of Commerce"
"City's Best" -- AOL Cityguide
"a four star restaurant located in Dallas and praised one of the best Chinese restaurants by the Dallas Observer, a local newspaper. May Dragon offers traditional Chinese cuisine, never uses M.S.G., uses fresh vegetables prepared by their very own Chinese Chefs. The restaurant also serves a complete wine list.
---
May Dragon offers Dine-In, Take Out and Delivery Daily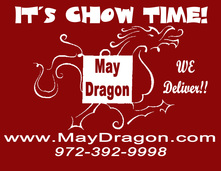 e use the freshest ingredients to bring you a tasty meal every time.
Start with our Super Pu Pu tray: a combination of spring roll, BBQ spare ribs, golden fried shrimp, beef on stick, fried chicken wing, served hibachi style at only $7 priced per person.
We have a large selection of all of your favorite dishes, which can be made with chicken, shrimp, beef and vegetables.
We open everyday for lunch and dinner, Call or order online for pickup or delivery and delivery charge of $4.99 within a 4-Miles Radius, Not valid with any other offer or Groupon
---